Get the Top Drainage Services in San Antonio
When your drainage systems aren't working properly, you can find yourself in hot water—literally. Water damage can be a serious issue on any property, and when you're not prepared, you may find yourself facing thousands of dollars in repairs. At MitchCo Foundation Repair, we provide top drainage correction and repair services, ensuring your home or business is always covered. Contact us today for a quote or to learn more about what our trusty team has to offer.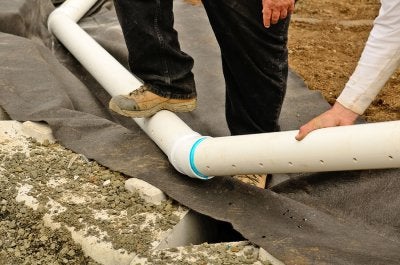 Signs of drainage problems
In general, drainage systems are intended to manage the flow of water. However, when things aren't working properly, there will usually be signs. Keep an eye out for these common indicators of drainage problems.
Pooling water around your property following a storm, indicating a lack of options for water runoff
Water stains on the walls of the basement; water stains can mean that water is entering your home rather than running the opposite direction
Visible mold or moldy smell, a problem often caused by water trapped in the walls
Cracks in the foundation, in your basement walls, or around door and window frames, indicating foundation damage related to water problems
These, of course, are not all of the signs. If you see anything potentially indicative of damage, a professional should be contacted immediately.
Drainage correction expertise
An existing drainage system may be enough to cover all of your needs—but it also may not. If you've seen signs of drainage problems in the yard or around the foundation, it may be time to call a professional. With expert help, it's possible to find out if your current drainage system is up to par or if you need a new system entirely.
Drainage correction refers to the process of installing a brand-new drainage system for a property that either has an inadequate drainage system or no drainage system at all. Drainage systems come in several forms, including a sump pump and a traditional French drain. Depending on your property, a professional can help you find the right fit.
Professional drainage repair
Sometimes, problems arise with drainage systems that are minor and, more commonly, easily fixable. When drain correction isn't necessary, drain repair may be the better solution. Drainage repair can guarantee a healthy foundation when significant damage isn't at hand. At MitchCo Foundation Repair, we are prepared to provide comprehensive drainage repair services, including waterproofing, fixing French drains, and adjusting sump pumps. With over 20 years of experience, our contractors are professionals in the world of repairs, ensuring knowledge and experience that can serve your home or business well.
When you need assistance or are unsure of how to handle a drainage problem, our experts are here for you. We are prepared to come to your property, examine your drainage system, and make suggestions that can save you time and money. Please contact us today for a free estimate!