Drainage Correction in San Antonio, TX by MitchCo Foundation Repair
Since 1997, MitchCo Foundation Repair & Contracting Services has helped San Antonio homeowners repair and protect their houses' foundations. A vital factor in preventing or forestalling further foundation damage is proper drainage and drainage correction.
Potential causes and signs that correction is needed
Even if your home or office already has a drainage system in place, the existing system may not be enough to protect your property and its foundation.
If you've noticed the signs of a yard drainage problem, it's important to contact a professional. He or she can assess the symptoms and current system to determine whether your property could benefit from additional drainage or a different type of drain installation.
It may be that your property has no drainage solution in place at all. In this case, remedying this issue immediately is of utmost importance. Improperly drained water and runoff can affect your foundation, which is generally costly to repair.
A few signs and causes of drainage failure include:
Puddles or pooling water around your property after watering or a rainstorm – This indicates water is unable to flow efficiently away from your foundation, leaving it at risk for damage.
Dark water stains on your basement walls – These stains are a sure sign runoff is finding its way into your property, rather than flowing away from it.
A mold problem or a moldy smell in your basement or crawlspace – Consistent moisture is the likely culprit and may be due to a lack of sufficient drainage to direct water away from your home or office.
Cracks in your foundation, basement walls, or around your window and door frames – Fissures like these show the settling of foundation damage, meaning there is a moisture problem affecting the soil around your property. Improving drainage is the first step in being proactive in in aiding against future foundation repairs

.
Keep in mind these are just a handful of examples. You may notice other indicators related to water or foundation issues. We encourage you to call a seasoned professional to investigate any potential drainage-related concerns as soon as you spot them.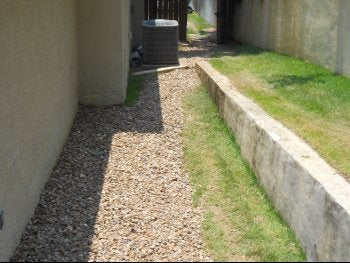 How drainage correction differs from drainage repair
You may have heard the terms drainage repair and drainage correction used interchangeably. However, drainage correction involves installing new drainage solutions for your home, while drainage repair entails fixing your existing sump pump or French drainage system.
Sump pumps and French drains
If your basement has flooded, you may need a new sump pump. A sump pump is a device that removes and redirects water away from a home's foundation.
Another option for drainage correction is the creation of a French drain, a rock- or gravel-filled trench that diverts both surface and groundwater to another area. Often, a perforated pipe is laid in the bottom of the trench to prevent seepage below the rocks and into the soil.
We also offer alternatives to the traditional French drain. EZflow from NDS incorporates a polystyrene aggregate known as Poly-Rock aggregate. It's installed as an underground subterranean tube and covered by dirt and grass, providing drainage correction. You'll never even know it's there because the grass will grow back on top of it.
A second drainage correction solution similar to a French drain is PCP or PVC pipe. Extremely durable, it functions in the same way as the EZflow solution, except it uses river rock with a grating underneath. The differences are purely aesthetic, so this solution may be ideal depending on the design of your structure and landscaping. Our experienced contractors and technicians can assist you in choosing the best of these two drain solutions.
Contact us today to schedule a consultation for drainage correction.