Drainage Repair Services in San Antonio, TX
Proper drainage is essential for a healthy foundation. Without a sufficient drainage solution in place, water can cause extensive problems on your property over the short- and long-term.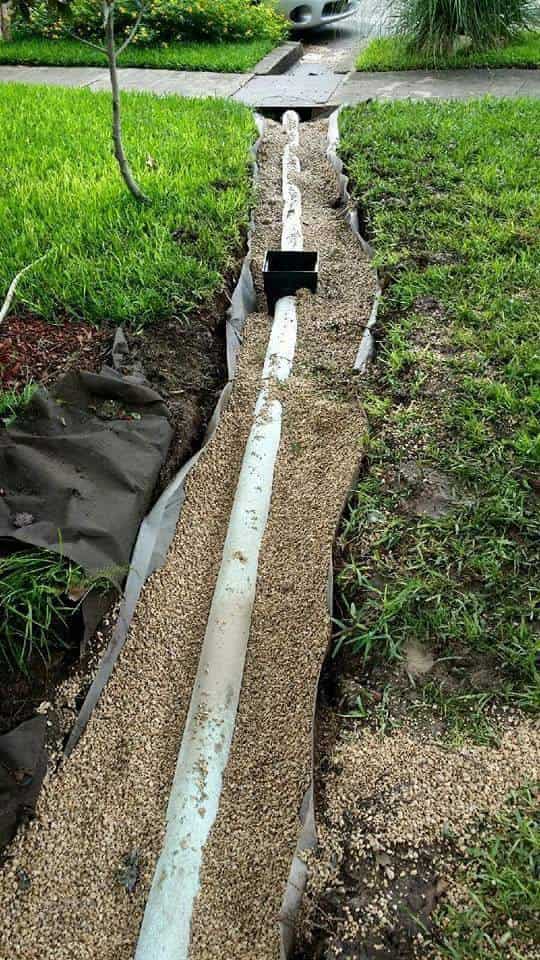 At MitchCo Foundation Repair & Contracting Services, our experienced general contractors specialize in drainage repair, including waterproofing and fixing French drains. When you need this type of work done in San Antonio, turn to us. We have more than 20 years' worth of hands-on knowledge that we bring to all our drainage repair projects.
How to know if you need repair work
It may be difficult to differentiate whether you need drainage repair or drainage correction, but you will likely be able to tell if there is an issue with your yard drainage just by being vigilant.
Some good predictors of drainage system problems include:
Your basement or cellar walls bear dark water stains, a direct result of runoff pooling or seeping in or around your home instead of being diverted away.
Persistent puddles or pools of water develop post-precipitation or post-irrigation. This means your drainage system can't manage the amount of water your property collects in a rainstorm or that your yard requires, putting your foundation's viability in danger.
A moldy crawlspace or basement may occur because of built-up moisture from poor drainage surrounding your home.
Your basement may flood if your sump pump has encountered a mechanical failure.
Any cracks in your house's foundation, around frames of windows and doors or in the basement walls, are signals your foundation could be suffering from infiltrating moisture. Your soil and lack of proper drainage could be a cause and this condition may be remedied with a repaired drainage system.
A sump pump that has fallen into disrepair or the lack of a functional French drain system on your property could cause serious harm to your house's foundation.
Regardless of whether the problems are caused by weather incidents, human error, wear and tear, or other accidents, the experts at MitchCo Foundation Repair & Contracting Services will evaluate your property to determine whether a drainage correction or drainage repair is needed.
Differences between drainage correction and drainage repair
If you have observed any of the above indicators or other potential signs that your foundation and, therefore, your drainage system is failing, contact our experts. They can visit your home and assess the best course of action to take. It may be you need drainage correction, meaning our technicians should install a brand-new sump pump or a French drain or alternative on your property. On the other hand, you may have an existing piece of equipment or drainage system that is failing. We might be able to do drainage repairs, saving you money and time.
Call MitchCo today at (210) 635-7577 to request a free estimate and ask about our payment plans that may be available with no interest, no finance charges, and no credit check! We're extremely committed to customer service, and meeting your expectations isn't enough—we will exceed them.