CONCRETE SLAB FOUNDATION REPAIR SERVICES IN SAN ANTONIO
Putting Your Building on Solid Footing
At MitchCo Foundation Repair and Drainage Specialists, we fully understand what a major investment you have made in your residential home or commercial building. Your foundation is the backbone of your home, building, or structure, so it is wise to keep it in great shape.
We are staffed with a team of dedicated professionals who would be happy to help you with your foundation problems. Ensuring that is protected and resting on the required solid footing should be a top priority. With our concrete slab repair services and foundation leveling, you can achieve peace of mind knowing that your investment is taken care of.
Methods We Use
The process for repairing your building is very simple and starts with a complimentary 1- to 2-hour evaluation with a service technician. The technician examines the building's current state and offers a recommendation on site. Depending on your structure and geographical location, we will use one of the following methods during our concrete repairs in San Antonio:
Concrete-Steel Hybrid Pier

We almost always recommend this method, as it is the standard choice for most of our customers. This option combines the price effectiveness of concrete and the depth of steel, as steel drives deeper and stays in position longer.

Hydraulic-Driven Steel Piers

This option is used under certain geographical conditions—usually when the terrain is very rocky or we need some extra support to do the job—and is normally reserved for commercial-sized projects only.

Drill Bell Bottom Piers

This is an older method and not one we recommend very often. It requires an extensive amount of soil removal and doesn't allow for much depth. While relatively expensive, the procedure isn't likely to go deeper than other methods offered usually just appliuances enough to offer the right amount of support.

Concrete Pressed Piling Systems—solid or reinforced with steel

This is widely regarded as the least-expensive option available. This process is used to flip houses, due to its price as a maintenance tool, and it works best in situations involving preventative maintenance or when problems are caught early on. The concrete settles into the ground less than steel, so there is an extra surcharge on warranties involving this process.

Under Slab Tunneling

Pier and Beam methods are concrete posts that are 8", 10", or 12". Shimming existing posts work if applicable. This method is perfect for those needing to gain access to your home or building's interior without busting a hole through your floor. Tunnels start at a certain distance and don't stop until the base of your building is reached to make the necessary repairs.
Why You Need Concrete Slab Foundation Repair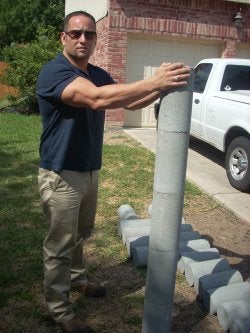 A foundation problem is not one that you can ignore. Fortunately, concrete slab foundation repair can turn things around, but you'll need to find the right company. At MitchCo Foundation Repair and Drainage Specialists, we're committed to keeping your building consistent, ensuring that you make the most of your investment, and enhancing your curb appeal.
Look below to find out why you might need concrete slab foundation repair for your home or building.
Consistent Environment – When your foundation suffers from damage, part of it will typically sink. This kind of change can become quite noticeable over time, and it can make it difficult to open and close your doors with ease. Whether it's your home or your office, this inconvenience will only get worse if you don't seek foundation repair.
Protected Investment – From your business space to your home, any space that you own is an investment. If you hope to sell your building or house in the future, you need to take certain steps to increase its value. MitchCo Foundation Repair and Drainage Specialists is happy to offer foundation repair services so you can make the most of your investment and get the best return possible.
Worried about the long-term sustainability of the work we perform?
Don't worry any longer! As a primary foundation repair company in San Antonio, we offer a limited lifetime warranty with reoccurring annual inspections that will make sure your building is secure and stable for years to come. If you prefer to sell your home, we buy investment properties with severely damaged foundations. Call our San Antonio concrete repair company today at (210) 966-1342 to request a free estimate and ask about our payment plans that may be available with no interest, no finance charges, and no credit check! We're extremely committed to customer service, and meeting your expectations isn't enough—we will exceed them.
View Our Concrete Slab Foundation Repair Gallery