Professional Concrete Slab Foundation Repair Services in San Antonio, TX
Putting Your Building on Solid Footing
Your home's or commercial property's foundation must be stable to protect you, your family, or your tenants. A solid foundation also protects your substantial investment. When you notice potential problems, you need to be able to trust the company you call to take care of your concrete slab foundation repair.  Based in San Antonio since 1997, MitchCo Foundation Repair & Contracting Services has dealt with almost every situation and type of building in the area.
Repairing concrete slab foundations
During a concrete slab foundation repair, we will make your building level again. We offer several different piering systems to achieve this. MitchCo is licensed, insured, and bonded. MitchCo obtains all required and necessary permits and engineers inspections and plumbing tests pre and post.
When foundation repair is needed
Your building, whether it's your personal residence, a multi-family structure, or an office, may need concrete slab foundation repair if you've noticed signs of sinking. These signs can include slanted floors, cracked interior walls, and windows and doors that don't close properly. Keep in mind that all buildings' foundations will settle over time, so even if you have great confidence in the company that built your edifice, your residential or commercial property will still need adjustments after a period.
The longer you put off correcting the underlying problem, the more difficult and expensive the repairs may become.
What to expect
Our foundation repair process begins when our service technician conducts a one- to two-hour, complimentary on-site evaluation and consultation for owners. Your structure and geographical location are two factors we take into consideration when making our recommendations for the best method for your concrete slab foundation repair.
The main options we use are:
Concrete-Steel Hybrid Pier

This is the method we always recommend because it combines the price effectiveness of concrete and the depth of steel, as steel drives deeper and stays in position longer.

Hydraulic-Driven Steel Piers

We primarily use these types of piers for commercial buildings and in conditions where the geography is particularly rocky.

Drill Bell Bottom Piers

We rarely recommend this method because it is relatively expensive and invasive without many added benefits over the more cost-effective options.

Concrete Pressed Piling Systems—solid or reinforced with steel

These can be solid or reinforced with steel. A budget-friendly option, we most often suggest this option for house-flippers or when foundation issues were caught early on, making this a preventative measure more than a repair tactic.

Under Slab Tunneling

If you need to retain access to your building during the repair work, which may especially be the case for offices and apartments, this method is the best for you. We use tunnels instead of drilling into the slab itself to get underneath the foundation. Once we have reached it, we install concrete posts or, when available, shim existing posts.
Our promises to you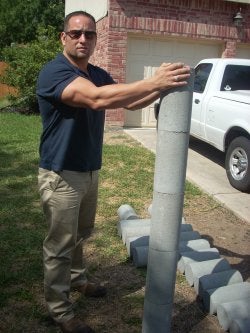 When you hire us to perform your foundation repairs, you expect a job well done that will last for years to come. We guarantee this with our limited lifetime warranty, supplemented with our annual inspections.
If you need financial help when it comes to paying for our services, inquire about our payment plans. We offer several that are no- or low-interest and require no credit check. We also accept a variety of payment methods, including checks and credit cards. You may decide that it is still too expensive and you would rather sell your property as is. We purchase investment properties and would be happy to negotiate a fair price with you.
Your satisfaction is of the utmost importance to us. We promise to do our best to please you with our service.
Schedule your free foundation evaluation by calling (210) 635-7577 today.