Commercial Foundation Repair in San Antonio, TX
Vertical Cracks in Block Foundation Repair
Commercial foundations are subject to many types of issues that could jeopardize your building. They're often large, bulking structures, requiring massive amounts of concrete that put a considerable amount of stress on the foundation below them. Settlement, sloped floors, concrete cracks, and other problems are common among commercial buildings. There are many different causes of these, such as improperly-mixed concrete, poor soil compaction, changing soil moisture, and other weathering effects. To get a better understanding of foundation issues in your commercial building, you need to hire a professional to conduct an in-depth inspection. The experts at MitchCo Foundation Repair have years of experience in commercial foundation repair and issue identification. Once we understand what is causing your foundation to wither, we can adapt our approach to finding a solution and preserving your building. As with all of our services, we offer competitive prices for our work. Contact us today to schedule your evaluation.
What are the Signs of Foundation Damage?
The first step is realizing your commercial building has foundation damage. While a professional can conduct an inspection, you can do some routine checks yourself before you decide it's time to call us. Check around your property for the following symptoms of foundation failure: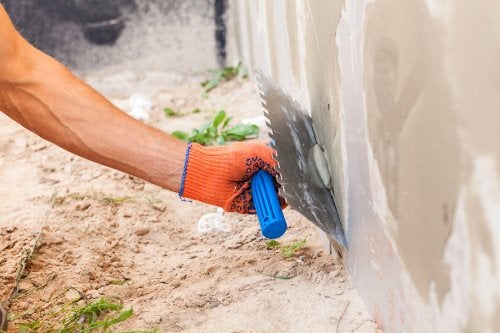 Slops and uneven floors
Cracks in the floor
Misaligned doors, windows, and the space between them and the wall
Bowed walls
Settlement or shifting building
Cracks in the walls and ceilings
Water leaking from various areas
Flaking concrete
What Causes Foundation Failure?
Just as there are many symptoms of foundation failure, there are many issues that cause them. The most common commercial foundation problems result from poor soil and water conditions. These are some other very common reasons for commercial foundation issues:
Over-saturated soil
Soil shrinkage
Poor water drainage
Failed gutter downspouts
Local tree roots dehydrating the soil and affecting the plumbing
Poor initial construction of the building
Plumbing leaks
What to Expect from MitchCo Foundation Repair
At MitchCo Foundation Repair, we're dedicated to our clients. We understand your commercial business relies on its building to stay operational. And with a shoddy foundation, your company is at risk. We employ various techniques and technology to address different foundation issues. Our teams use the following strategies and more to secure your commercial foundation:
Underpinning – driving steel push piers to transfer weight evenly throughout our building
Piling – using piles screwed into the ground and removed while injecting concrete into the shaft. This supports your foundation with strong, durable concrete without disturbing additional areas.
Soil Nailing – We use this to stabilize the foundation and retaining walls that have become victims of bowing, shifting, and leaning. We anchor these devices in the soil, which we then attach to the foundation wall, applying pressure to correct the walls into their original, correct position.
Fill Out a Contact Form Today
Our team of engineers works diligently on each project to secure your commercial foundation for years to come. We stay on top of modern techniques and technology to conduct efficient, affordable foundation repair. It all starts with scheduling an appointment for an inspection. Don't wait till it's too late for foundation repair. It's always better to get ahead of the problem.