Professional Foundation Repair in San Antonio
Your Go-To Company For Advanced Foundation Repair
MitchCo Foundation Repair offers a wide range of foundation services throughout San Antonio, TX and the surrounding areas, including foundation repair.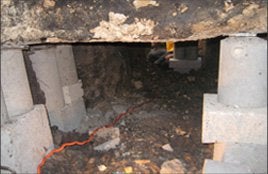 Your foundation may sit out of sight, but it shouldn't remain out of mind. When a foundation settles, foundation repair is required to stabilize your investment. Foundation problems may start small but can escalate quickly over time, causing permanent widespread problems and damage to the structure. MitchCo Foundation Repair and Drainage Specialists are here to help you raise and level your concrete slab or pier and beam foundation in San Antonio with professional foundation repair services that always include service warranty, permits, proof of insurance, engineers' reports, and plumbing pre-and post-tests.
Factors That Affect Your Foundation
Many factors play a role in the integrity and longevity of your foundation. Understanding the risks your foundation faces can help you take steps to minimize or reduce threats and recognize when you need foundation repair to correct an ongoing problem. Factors that affect your foundation can include, but are not limited to, the following:
Drainage plays an essential role in foundation health. When the drainage on your property is inadequate, water can pool around your foundation, causing it to heave and shift over time.
The soil on which your property rests is an essential factor that affects the integrity of your foundation. Soil often changes due to droughts and rainfall. Any shifts will take your foundation along for the ride, causing settling, shifting, and other damage.
Tree roots can burrow through your concrete foundation in search of water. Over time, these roots weaken the foundation and make it more susceptible to moisture, causing further damage.
Weather can negatively affect your foundation. Hot and cold weather forces the soil under and around foundations to expand and contract, creating permanent separation over time.
Plumbing leaks can occur under your foundation, causing soil heaving to create permanent shifts and settling of the foundation.
Signs You Need House Foundation Repair
Numerous telltale signs indicate it's time to get the foundation of your house repaired by a professional team. If you notice any of the following signs, give us a call:
Exterior cracks
Interior sheetrock cracks
Doors out of square and uneven floors
Door and window frames separating from the brick
Rotting wood – piers and beams
Bouncing floors – rotten wood
Tile cracks
Expansion joint separation
Nails popping out of the drywall
Walls pulling away from the house
How Do Foundation Cracks Occur?
Over time, the concrete foundation will crack and expand during freeze and thaw cycles. While most concrete walls and floors are constructed with control joints, problems can still occur. These problems start when concrete cracks allow water to seep into your basement. Even control joints can leak.
How Foundation Repair Is Done
Repairing your foundation may sound like a complex process. Still, with the proper knowledge and tools, it can be completed quickly, effectively, and affordably to restore your property's value. If your foundation needs repair, we can help. When you reach out to our expert team, we can schedule an evaluation to get started on foundation repair, drainage correction, or interior and exterior basement waterproofing as soon as possible. Some of the steps of foundation repair are:
Your contractor will perform a thorough evaluation of your property to determine the extent of the foundation damage.
In most cases, if the foundation has experienced settling, your foundation will need to be leveled in the appropriate areas of influence, which involves underpinning and raising the superstructure using pilings or piers and hydraulic jacks.
Inadequate drainage around your foundation can be a significant contributor to foundation damage and settling in the future. Additional steps such as the installation of drainage correction methods can help to prevent future foundation issues.
How Our Professional Team Can Help
If your home's foundation is damaged due to a leak, our expert team can help. Whether you have a small crawlspace or a finished basement, we can make sure your home's foundation is stable for the years to come. When you trust our well-trained, fully-equipped team, all your basement foundation repair needs will be handled quickly and efficiently. Cracks in your foundation can be indicative of a severe structural problem. When your foundation is cracked, water and dangerous soil gases can enter your basement, causing mold and mildew growth, leading to a myriad of health issues. Because of this, signs you need house foundation repair should always be taken seriously.
Contact Us Today For Home Foundation Repair
Whether you need foundation crack repair or foundation leak repair, we've got you covered. The professional team at MitchCo Foundation Repair has many years of experience in concrete foundation repair. Contact us today to schedule a complimentary evaluation or to learn more about the various services we offer. We look forward to working with you.