San Antonio Yard Drainage Installation & Drain Repair Services
Diverting Unwanted Water Away from Your Foundation
Proper drainage is essential for a healthy foundation. Without a sufficient drainage solution in place, water can cause extensive problems on your property over the short and long term. At MitchCo Foundation Repair and Drainage Specialists, our experienced general contractors specialize in yard drainage, drain services, and drainage repair, including waterproofing and French drain installation in San Antonio.
Signs You Need Drainage Correction
Even if your home or office already has a drainage system in place, the existing solution may not be sufficient to protect your property and its foundation. If you've noticed the signs of a yard drainage problem, it's important to contact a professional to determine whether your property could benefit from additional drainage or a different type of drain installation.
Puddles or pooling water around your property after watering or a rainstorm indicate that water is unable to flow efficiently away from your foundation, leaving it at risk for damage.
Dark water stains on your basement walls are a sure sign that runoff is finding its way into your property, rather than flowing away from it.
A mold problem or a moldy smell in your basement or crawlspace points to the presence of consistent moisture, which may be due to a lack of sufficient drainage to direct water away from your home or office.
Clear signs of settling of foundation damage, such as cracks in your foundation, basement walls, or around your window and door frames, mean there is a moisture problem affecting the soil around your property. Improving drainage is the first step in foundation repair to ensure that any actions taken to correct foundation damage will last.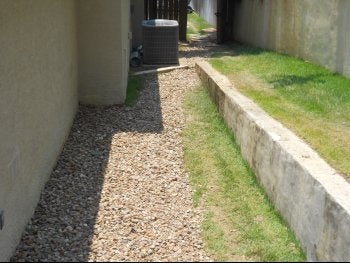 Our drainage correction services include:
French drain: Drain repair and installation services that make water drainage more efficient and eliminate foundation problems related to poor drainage.

Slope correction/Grading: The ground should slope 2 or 3 inches away from your foundation every 10 feet. Our technicians can adjust the slope so that water is not continuously drawn toward your home.

Under slab tunneling: Rather than dig up the ground and floors, our crews can dig a tunnel underneath your home to remove old pipes and install new, durable solutions that last.

Ravines: The natural topography surrounding your home can be used to maximize the efficiency of a drainage system.

Positive sloping: The slope of the ground can be adjusted so that water flows to lower elevations, away from the structure, keeping your home dry.

Trenching: Can be used for downward sloping yards. Working similar to traditional drains, it directs water away from structures and toward the street or larger sewer/drainage system.

Sump Pump Installation: After installation, the sump pump can safely pump water away from your basement and foundation

Drainage Rerouting
Subsurface drainage is the general term used for alleviating water using any kind of a drain that goes under the ground. French drains use rock underneath the trench, and come in many styles. They have the look of rocks in a river and can add style in addition to the protection offered.
Two Effective Solutions for Drainage Correction in San Antonio, TX
For those homeowners who don't want to see any rocks, we offer EZFlow from NDS. EZFlow incorporates a polystyrene aggregate known as Poly-Rock Aggregate. It's installed as an underground subterranean tube and covered by dirt and grass, providing drainage correction and aesthetics. You'll never even know it's there—the grass will grow back on top of it.
NDS EZflow
A prefabricated French drain, this one is gravel-free. Each unit consists of one drain and a 10-inch diameter pipe with an inner diameter of four inches. The 10-foot long, 3 or 4 slotted corrugated pipe is installed below grade without anyone having to move, shovel, or bring in large quantities of heavy gravel.
The PolyRock aggregate contains flow channels; the increased void space maximizes drainage efficiency. Another benefit is that the polystyrene will not absorb water that touches it; nor will it break down in the presence of moisture. Each package can be installed wherever you'd find a traditional French drain system, so it's an ideal solution for drain installation, especially if gravel can't be used or there is limited access to the drainage area.
EZflow can be used with the following drain systems:
Landscape

Basement or crawlspace dewatering

Retaining wall

Roof run-off

Foundation and perimeter

Interceptor

Curtain
Crush-proof, the product can be expected to last 100 years. It is specially designed to remove water from the soil and transport it to a discharge point.
PCP Piping and Riverrock
A second drainage correction solution we offer in San Antonio is similar to a French drain. The PCP or PVC pipe is extremely durable. It functions in exactly the same way as the EZflow solution, except that it uses river rock and, underneath this layer, there is a grating. The differences are purely aesthetic, so this solution may be ideal depending on the design of your structure and landscaping. Our experienced contractors and technicians can assist you in choosing the best of these two drain solutions.
Help ensure a long life for your building's foundation. Whether you need to install a drainage system or change the slope of the yard to re-route water away from dangerous areas, you are in the right place. Call our San Antonio foundation repair company at (210) 635-7577 and speak with one of our friendly representatives about the drainage repair, drain services, or for French drain installation in San Antonio. Ask about any concerns you have and how we can help fix them!! Payments plans may be available with no interest, no finance charges, and no credit check!